Lindner Publications Products

LINDNER-T Blank System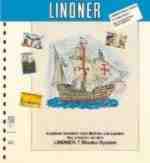 Anything is possible with the LINDNER T-Blank System. You choose the page to fit your stamps by selecting the pocket sizes. The number of pockets and the height of the stamps will decide the correct page. Our grid pages help you select the page you require simply and quickly. The LINDNER-T Blank System is now available in 80 different formats.
Stockbook Bargains!
Stockbooks at Incredible Low Prices!
Finest quality German manufactured Lindner Stockbooks priced below wholesale; 60 pages, white or black with double interleaving, padded luxury covers available in 5 color options..
Mint Sheet Album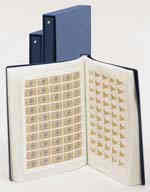 Blue binder made from sturdy cartboard to hold 100 sheets. The crystal clear pockets are separated by glassine interleaving sheets. Holds mint sheets up to size 9-5/8" x 12-3/8" (245x315mm)
Bank Note Albums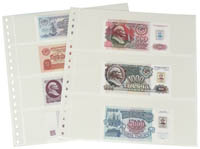 The tradition of archival safety that has built the Lindner reputation for quality over many years and well expressed in the Lindner Currency Albums..
Mount Guillotines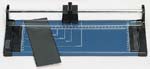 Ideal for philatelists, photographers and modelmakers.
First Day Cover Album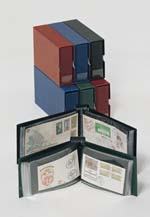 Includes 4-ring binder (#1400) with 10 clear pages (#1404) with black inserts to hold 40 covers up to size 7 4/9" x 4 2/3" (189 x 119 mm). Add additional pages as your collection grows, choosing from the one-pocket or two-pocket pages as needed.
Archival Cover Sleeves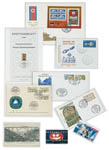 Cover Protectors are crystal clear on both sides and are 100% free of plasticized PVC, stearates and softeners. Archival quality, constructed of sturdy 10 mm crystal clear plastic film front and back. Top loading protectors open on the long side and are preferred for ease of loading covers without causing harm. Side Loading are preferred by many dealers for added security in the retail show environment, and stock is not so easily handled (and soiled, etc)
.